Stories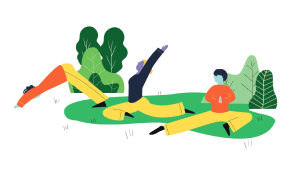 The past three years have challenged traditional understandings of the purpose of parks. No longer just places to walk a dog, play baseball, or take kids to the playground, parks across the country are being transformed into hubs of community support to address some of the most pressing issues of our time.
As inequities have surfaced and deepened throughout the pandemic, we profile how community programs that bring food distribution, healthcare, survival supplies, conflict mediation, and grief counselling to local green spaces reimagine the ways parks can support equitable urban life. Through these programs, parks are not only helping to fill gaps in our social safety net but also between people, strengthening relationships across social divides.
Perhaps one of the most visible gaps parks are filling, in the context of a national urban housing crisis, is providing a home. As we explored in our 2020 Canadian City Parks Report, many parks departments have a troubled track record in responding to encampments, opting for approaches heavy on enforcement rather than engagement.
There is growing recognition, however, of the need for more inclusive practices that centre the well-being of unhoused communities that is pushing some cities to take steps towards approaches rooted in human rights and relationship-building.
Surveillance-based approaches continue to dominate. 90% of cities said houselessness is a challenge—stable from last year. In responding to houselessness, 76% of parks departments said they use bylaw enforcement and 66% use design strategies aimed at crime prevention, while only 10% engage directly with unhoused communities, highlighting there is still work to be done to shift toward more inclusive approaches.
Encampments do not disrupt park use for most. 62% of city residents who had noticed park encampment(s) said the encampment had not negatively impacted their use of parks, pointing to the openness of park goers to share space with unhoused neighbours.
Parks relied upon for essential services. 93% of public survey respondents said that meeting basic needs is an important role parks play in cities with year-round public washrooms at the top of the list for desired amenities. 48% of cities said they had implemented social service programs in parks, such as health clinics or food distribution.
Invest in both the material and social well-being of unhoused communities by ensuring basic amenities and services are in place in parks, but also designing park programming that taps into people's skills, interests, and creativity. Co-design programs with unhoused neighbours to ensure the activities will not result in displacement or discomfort.
Approach encampments through a human-centred rather than operational lens, leaning into the strengths of park professionals as connectors and convenors. Build relationships with unhoused residents and community partners, while fostering an organizational culture of openness, reflection and learning throughout the process.
Develop an encampment strategy, in collaboration with unhoused residents and community partners, that identifies overarching core values such as harm reduction, reconciliation, and leadership of people with lived experience, to guide decision-making on park issues affecting unhoused communities.
Sponsor the next issue.
The only report tracking the key trends and challenges facing city parks across Canada.