Stories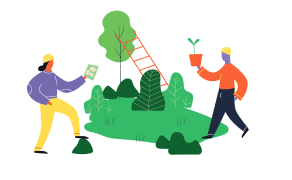 Doing more with less. That's been a key challenge we've heard from cities each year in the Canadian City Parks Report. And this year is no different—in fact, many cities said that while the pandemic didn't result in budget cuts, they had to stretch their funding to cover additional public health-related costs.
Cities also reported that they've noticed residents now expect more from their parks in terms of amenities and quality—not surprising given the amount of time that people spent in parks during the last two years.
Meeting these needs will be a challenge. Covid-19 has impacted the construction of new and upgraded parks, lengthening timelines for completion and contributing to higher material costs, which could have consequences for how quickly cities can respond to changing needs moving forward.
Responding to resident needs isn't just about money, it's also about process. As we profile in this year's report, some cities are experimenting with participatory budgeting programs that allow residents more of a say on how dollars are spent and new granting programs that assist residents in creating dynamic public spaces.
Covid stretched budgets, but funding was stable. 86% of cities said insufficient operating budgets were a challenge, but many noted Covid hadn't reduced available funds—just stretched them. Cities reported impacts including reduced park program offerings (65%), staffing levels (50%), and maintenance standards (42%).
Cost and complexity of parks is rising. 93% of cities said Covid impacted capital budgets, including delaying projects and increasing the cost of materials. This may have long-term impacts on park renewal, as 97% of cities also listed aging infrastructure as a challenge—the third year in a row this was a top concern.
City residents support more public park funding. 87% of city residents support more public funding for parks, including 36% who want investments prioritized for maintenance, 35% for higher quality designs, and 19% for community programming. Two-thirds of public survey respondents felt their parks were well-cared for, while 23% felt they were not.
Embed equity within park investment by layering data such as demographics, historical investment patterns, and environmental measures like tree canopy coverage into park planning. This allows cities to prioritize investment in parks beyond just measures of development growth, which may leave communities that don't see as much development behind over time.
Consider more participatory funding models for public spaces, allowing community members to actively collaborate through participatory budgeting or flexible grants. Plan adequate staff time for community engagement and internal discussions in order to move ahead projects that may not fit within the city's typical approach.
Advocate for additional investment in parks by building on the high support amongst residents of Canadian cities for more public funding and the growing recognition of parks as critical public health infrastructure. Use the data and research in this report to make the case to decision-makers.
Sponsor the next issue.
The only report tracking the key trends and challenges facing city parks across Canada.