Stories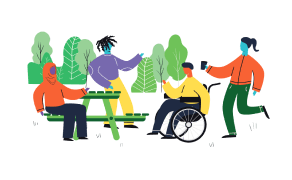 The past year has demonstrated the ways in which parks are ideal spaces for decolonizing public spaces. Parks are a site of gathering, and one of the few spaces left in a city that are free to access, making them an important places for transformative intercultural and intergenerational learning. As the number of unmarked graves at residential school sites continue to grow, so does the urgency for work that holds up Indigenous Peoples and cultures.
In 2021, we witnessed an inspiring increase in Indigenous leadership through renaming parks, conducting educational programming, advising on native plant species, and bringing ceremonial practices into parks. These actions not only strengthen community connection, but also aid us in reckoning with and revisioning the way we've come to understand our history, and in turn, our future.
Perhaps the most important element of decolonizing park spaces is the way in which a city engages with the Indigenous community who has ancestral ties with the land. Centering Indigenous knowledges in everything from park development projects to returning to native plant growth has been the driving force towards more inclusive public spaces.
Native plant species are a must. Second to year-round public washrooms in parks, respondents to our survey of residents in Canadian cities said they would like to see more native plant gardens and naturalized spaces in city parks. Further, 87% of respondents are in favor of returning to a more naturalized, native plant species biodiversity within parks.
People are ready to let go of names from the past. 59% of survey respondents said they are in favour of renaming city parks that are currently named after colonial figures, and instead, restore Indigenous place names. Alternatively, only 7% remained strongly against name changes.
Representation can be an opportunity for learning. 68% of city residents are in favor of seeing more Indigenous representation in park spaces, including increased Indigenous presence through signage, educational programming, and art installations, while 20% remained unsure.
Ensure Indigenous consultation is at the forefront of park improvement initiatives. Indigenous Peoples must be engaged as rights-holders, whose territories city parks are built on. This means learning the Indigenous processes and cultures of the territory your city is in.
Renaming city parks helps us better understand our histories and learn about Indigenous processes of naming, both sacred and otherwise. This can include reclaiming existing place names or supporting Indigenous-led processes that allow the people of the land to provide a new name.
Returning to and conserving native plant species must be a priority and this work must be done in collaboration with Indigenous Peoples who hold knowledge about these plants and how they fit into a larger kinship network of species.
Sponsor the next issue.
The only report tracking the key trends and challenges facing city parks across Canada.